Proof of authenticity, fake amber or nature amber
After an amber-law of 3.5.1934, there are two quality designations:
Natural amber and real amber.
The law is still valid today.


Attention !!!
Real amber is understood as pressed amber.
He is taken from small pieces at 300 degrees in liquid form and designed to a new "artificial amber" using hardener and colour. To the expert, the difference is obviously – but not necessarily to the layman.
The price is more than 50% below the price of natural amber.
There are also copal, which are stones that mostly come from Africa or the Dominican Republic and are very brittle. They are less than a million years old in opposite to the Baltic amber which is between 40 and 120 million years old. Copal is usually unsuitable as jewellery.
Five different options:
(1) Burning, for example with a hot needle = typical smell of resin

(2) Determine the specific weight: in salt water (200 cc of water, + 10 teaspoons cooking salt) amber with 1.08 g / cc swims at 1.3 g / cc saline water. Art imitations are heavier, for example more than 1.3 g / cc, and sink!

(3) Knock on the teeth; it has to sound soft;

(4) Charge the amber electro-static positive by rubbing. Amber attracts small scraps of paper.

(5) Scratch the amber slightly with a small knife. Only amber gives white dust.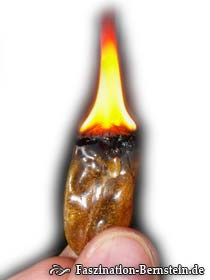 (1) The burning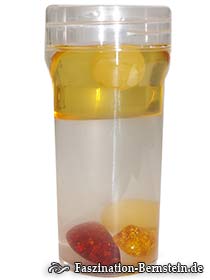 (2) Determine specific weight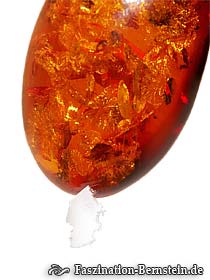 (4) The amber attracts small scraps of paper